Ashutosh Mahajan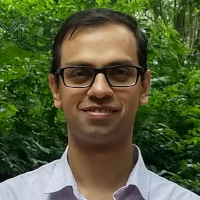 Associate Professor
Industrial Engineering and Operations Research
IIT Bombay
Research Interests
I am interested in Operations Research generally and particularly in developing theory, algorithms, and software for optimization problems involving discrete choices or integer variables.
Contact Information
Postal Address:
Ashutosh Mahajan
Industrial Engineering and Operations Research
Room 104, IEOR Building, IIT Bombay
Powai, Mumbai
400076
India
Previous Webpages
Disambiguation
I am not a physicist nor a nephrologist. I was studying Mixed-Integer Nonlinear Optimization with Sven Leyffer and Todd Munson. I was previously studying Integer Linear Programming with Ted Ralphs at Lehigh and was usually seen to be hanging out with friends.
About this site
All views/ideas expressed are personal and may not comply with those of IIT Bombay or the IEOR Department. This site is powered by:





Unless otherwise noted, all work on this site is licensed under a Creative Commons Attribution-Share Alike 3.0 Unported License. The last sentence was copied without permission from Prof Ralphs' homepage. ;-)
---
last modified on August 9, 2012.