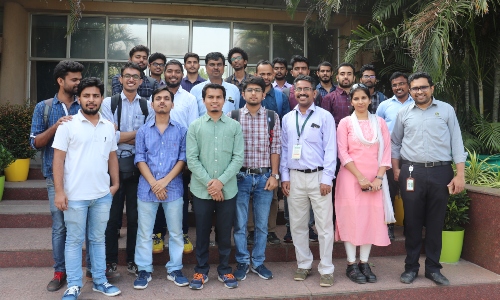 IEOR student visited manufacturing unit of John Deere, Pune on 17th of October 2019. The visit was aimed at taking a closer look of application of Industrial Enginnering and Operations Research in practice. Students were able to see Simulations used for different purposes from managing the optimal funtioning of the unit to testing new designs.
Deere & Company, founded in 1837, is a Fortune500 Company. It is the world's leading manufacturer of agricultural, construction and forestry equipment with revenues of US$ 26.64 billion.  
India operations started in the year 1998, with manufacturing of tractors for sales in India and exports. John Deere markets agricultural equipment and services through a network of 19 area offices, 6 regional offices and close to 900 dealers touch points. It has 4 training centers spread across India and it exports to more than 110 countries worldwide. Headquartered at Pune, today, John Deere has eight facilities for manufacturing and services in India.